We had tons of fun hosting our March events, and now it's time to announce our April community events at Windsong Ranch! If you are looking for fun things to do in Prosper, you've come to the right place. Join us for a good time and see what our community has to offer!
Ladybug Release
We're celebrating Earth Day early by releasing 100,000 ladybugs into our Prosper, Texas community! You and your children will also be able to learn about the effects these tiny bugs have on our environment and why they are so important to the ecosystem. We'll also provide sno-cones and face painting throughout the day.
Music on the Lawn
Our March Music on the Lawn event unfortunately got rained out, but this month we'll be back out there ready to dance! The Moving Colors Band will be playing their sweet tunes while you hang out on our lawn and enjoy the evening. Don't forget to grab a blanket and lawn chairs!
Superhero 5k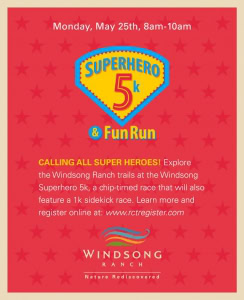 Our Superhero 5k run isn't until May, but we wanted to let you know about it ahead of time in case you wanted to start training! You'll get to explore the wonderful trails at Windsong Ranch in a micro-timed race.  For those looking for a more leisurely run, we will also offer a 1k sidekick race.
We hope you'll be able to make a few of these events! Just as a reminder, all of our events are open to the public. Bring your friends and family to experience all that Widnsong Ranch has to offer.